Prices received for cattle in the online trade in the first weeks of 2022 continued to defy record highs, reflected in Central Queensland sales until the torrid returns recorded at Victorian era weaning sales in January.
For buyers, the purchase price pain continues unabated, with "digging deeper into pockets; likely to be frequent during the first sales.
The desire and willingness to pay for accelerated herd growth continues unabated through early 2022, according to early season results.
There has been a significant increase in the number of cattle offered through AuctionsPlus sales this week, with 15,684 head offered across the three main commercial sales, up 42% from the same week last year.
Prices were higher in some livestock categories, with PTIC cows and station-bred heifers reaching a new level, in c/kg.
BOM's recent seasonal outlook continues to support the extraordinary confidence within the industry, with predictions next week for a return to wet conditions across a wide swath of northern and eastern Australia. Scattered storms throughout the past week have brought heavy falls to parts of eastern Australia, particularly already congested parts of central and southern New South Wales.
The three lightest young steer categories posted moderate to large increases in c/kg this week, absorbing the higher supplies offered in both the online market and various physical markets.
Light steers under 200kg, although limited in numbers to 458 head, rose 50c/kg to an average of 705c, while the highly sought-after 200-280kg category recorded an 89pc clearance rate for 1580 bud on offer, with prices rising by 18c in the past week to an average of 747c. Average weight 280-330kg steers are up 3c slightly to 681c on average, while 330-400kg cattle are on average 1c lower at 614c.
Heavy steers fell 32c on heavier supply this week to average 550c. The category's clearance rate also slipped, ending the sale at 64pc for the 1295 head offered.
Among the offers of young heifers, the examples from 200 to 280 kg posted on average 10c/kg more at 657c, with a liquidation rate of 98pc for the 934 heads offered. After the previous week's surge, 280-330kg heifers have dropped 91c/kg this week to an average of 626c. A small supply of the lightest heifers under 200kg rose 211c to an average of 917c this week, while the 330-400kg category was unchanged, averaging 588c. This opened up one of the largest weekly differentials on record with PTIC heifers, at $1,192/head.
The heavy heifers of +400kg lost 55c this week to reach an average of 524c.
breeding cattle
Some mating female lines have moved up this week, with on-station mated heifers raising 157c for a small offering of 306 head. PTIC heifers were easily the biggest category online for the week, with 2499 head offered, selling at a clearance of 80pc. Prices slipped 24c to average 664c/kg, or $3,310. Within this group, PTIC Angus lines, which made up 61% of the category, sold at a 92% clearance and averaged just over $3,462.
PTIC cows were also more expensive this week, up $374 from last week to average $3,039.
Larger lines on offer this week included a line of 104 PTIC Angus heifers from Beardy Plains, Glen Innes, averaging 433kg at 19-21 months, which returned 831.4c/kg on Friday. These were PTIC bulls in Angus, due to calving from mid-February.
Another run of around 140 mixed PTIC heifers from Tamworth NSW, mostly Angus with some paddocks from Rolleston (Central QLD) Santas bred, 18-22 months averaging pens of 524kg to 458kg, made from 667c to 742c /kg for a few heavier batches of Santa Claus.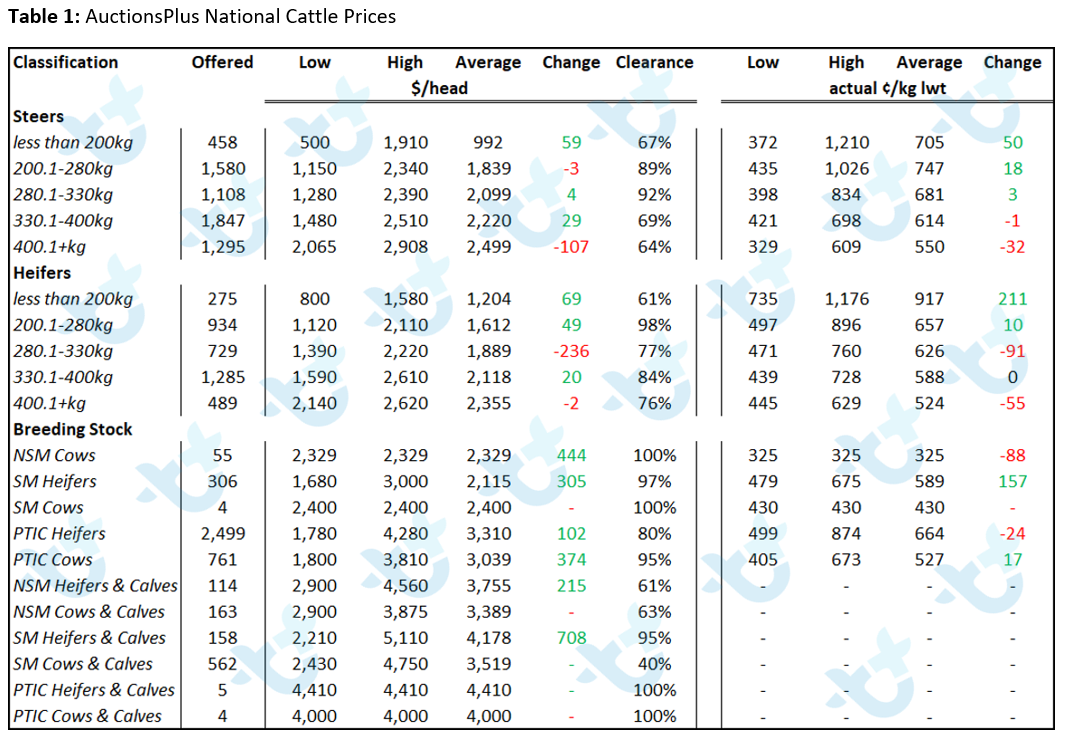 Source: AuctionsPlus