DESPITE the clearer conditions, the online livestock supply remained more subdued this week, with AuctionsPlus commercial livestock bids declining to 17,326 head, down seven per cent from the previous week.
The drop in supply was caused by logistical problems resulting from wet paddocks in some areas, which led to strong demand from Queensland and northern New South Wales, which obtained a large part of the purchases from weaned and yearlings.
This was reflected in higher prices for most steer categories – recovering some of the previous week's losses.
Wet and cold conditions have temporarily dampened demand for breeding lines, despite high humidity levels which are expected to support ongoing herd rebuilding activity. Results were mixed for lines of younger heifers with no clear price trend, while clearance rates for lighter heifers were significantly higher than heavier lines.
Young light steers have been mixed this week, with steers under 200kg increasing by 26c/kg last week, recouping half of the previous week's loss at 580c/kg on average.
Steers from 200 to 280 kg lost an additional 7c/kg or $45 to reach an average of 681c. With 2527 heads offered, at a clearance of 78pc, these lighter categories were relatively stable compared to the heavier lines.
From Normanton in the Gulf Country of Queensland, a line of 208 Brahman steers aged 4-12 months and weighing an average of 204kg fetched $1,410/head or 690c/kg. The same seller offered a line of heifers consisting of 145 heads weighing an average of 186 kg which fetched $1,120.
For heavier steers from 280-330kg, prices rose by an average of 35c/kg to 698c/kg, regaining losses from previous weeks and more. Clearance rates for the category supported the price increase, reaching 83pc with the larger supply of 2121 head.
Steers from 330-400kg saw a return to usual offers this week, with the 1,566 head on offer tripling the number from the previous week, with confidence in the heavier lines remaining robust as clearances also rose last week for reach 77% – compared to 55% the previous week. The return of offers from the North enabled average prices to increase by 42 cents/kg, to 605 cents/kg. Another large series of steers from Queensland consisting of 204 Droughtmaster 6-10 month old bottom feeders weighing an average of 313kg fetched $2040 or 651 c/kg.
The heaviest steer category didn't miss out on the stronger market this week, with steers over 400kg rising by 29c/kg or $105 last week, to an average of $536c. Clearance for the reduced supply rebounded to 79pc from the 449 heads on offer.
For the five categories of young heifers, mixed results were obtained while the releases were stronger compared to the previous week. Heifers from 200 to 280kg increased by an average of 34c/kg to 690c on the 1675 head offered, while heifers from 280 to 330kg fell by 22c/kg to 603c. Lines from 330 to 400 kg were on average 5c/kg higher, at 597c for the proposed 702 head.
From Cudal, NSW, two paired lines totaling 70 head of 9-10 month old Angus heifers weighing 279 kg yielded 866 c/kg. They will be going to a buyer near Moree, NSW.
breeding cattle
The lineup of PTIC cows and PTIC heifers was reduced this week, with offers of 1,738 and 2,997 head, respectively. While clearances for PTIC heifers remained low at 42%, the category averaged $207 lower than last week at $2,772/head despite some notable lines that extended the category high to $4,880.
PTIC cows slipped $7 last week to $3076 – quality lines supported a 61pc clearance rate.
As has been the trend throughout 2022, PTIC heifer approval rates are expected to increase in the coming days as aftermarket negotiations begin.
A line of 96 PTIC Brahman heifers aged 28-34 months weighing an average of 393kg from Reid River, North Queensland, fetched $2,610 and will be heading to a buyer near Rolleston, Queensland.
A line of 3-4 year old Angus PTIC cows averaging 633kg from Borambola, NSW, which ran into strong auction activity, fetched $4410/head – $1600 above its reserve – when she was purchased by a buyer near Dalveen, Queensland.
NSM cows and calves fell $292 last week to average $3,449/head, despite clearance dropping to 84pc from 63pc the previous week.
From Moyhu, Victoria, two lines of 2-3 year old Angus NSM cows with CAF averaging 562kg and 514kg fetched $3850/head and will head to a buyer in Penola, SA.
Prices at 2 p.m., Friday, May 20.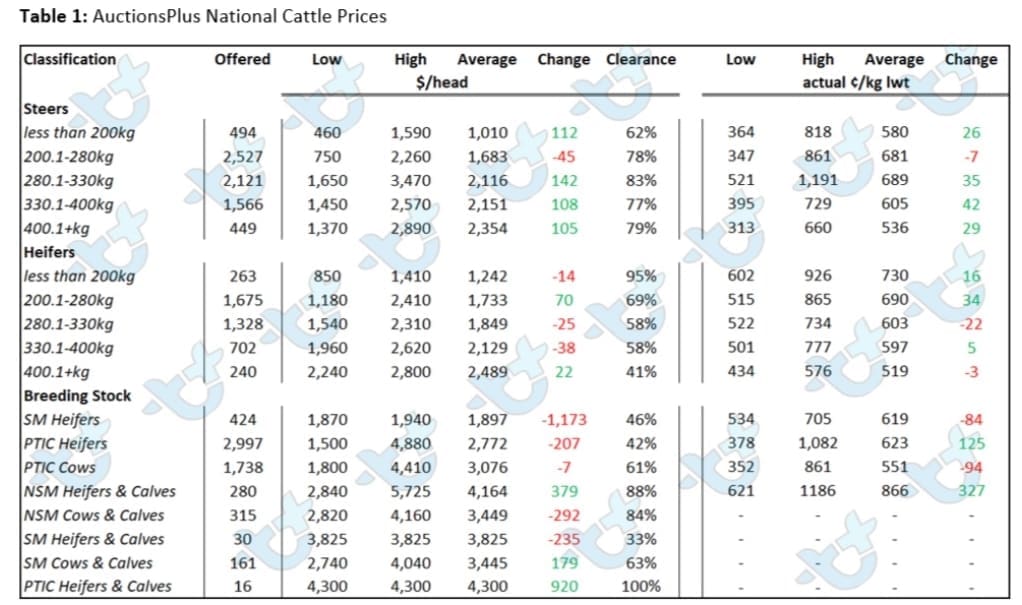 Source: AuctionsPlus